At ArabiClearly we offer Media Arabic course to develop all the aspects of the Arabic media; this includes to adapt the style of speaking, accuracy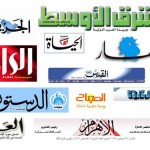 , reading and creative Media Arabic writing Style. The course will focus on the ability to read and understand Arabic daily newspapers and become familiar with topics such as business, health, technology, politics and Sci/Environment, the learner will be able gradually to write on the same style of Arabic journalist during this course acquiring and adapting Arabic manner.
The course is structured around a number of articles from Arabic media which deals with current affairs in Middle East, starting from very basic and short articles and gradually to have more advance and longer articles.
By the end of the course, students will be able to:
Be able to read and understand Arabic newspapers and online website such as BBC, Aljazeera, and Al-Arabiya.
Listen and understand the daily news from radio stations and TV news
Discuss topics related to politics, business and current affairs
Adapt Arabic media writing Style
Focus on a specific field or multiple topic, depends on learners needs and gaols
To apply for this course, students should have a decent knowledge of Arabic and be able to read simple text and write short sentences. for more information about this courses and adapting to match your needs please Do not hesitate to contact us at: info@arabiclearly.co.
uk